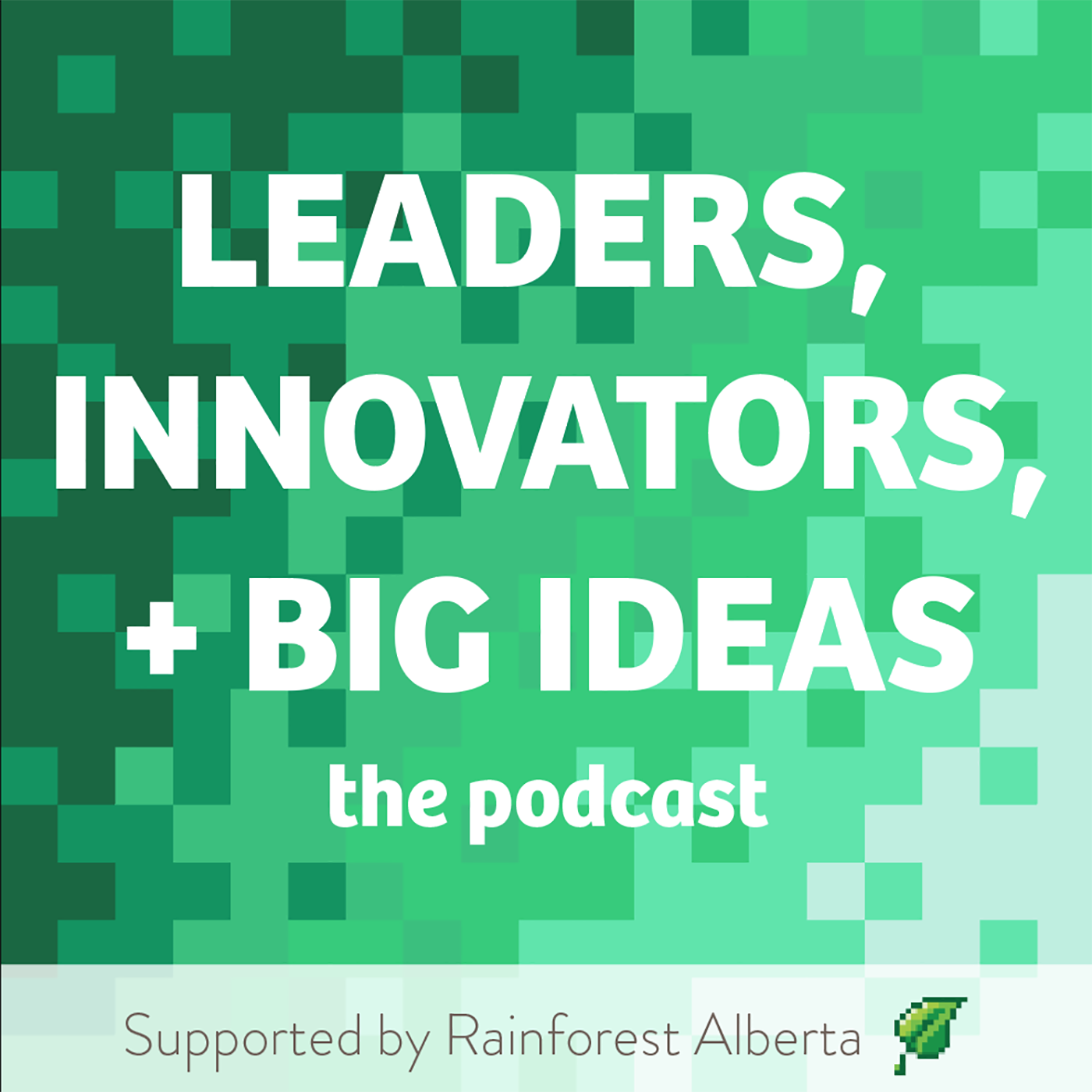 Thank you for listening to the Leaders, Innovators and Big Ideas podcast, supported by Rainforest Alberta.  The podcast that highlights those people who are contributing to and/or supporting the innovation ecosystem in Alberta.
Another episode from Edmonton hosted by Christopher Drobot.  Christopher Drobot is a passionate cheerleader for the potential of the Edmonton region. Although not directly an entrepreneur himself, his extensive experience in business operations and now mortgage lending help focus his excitement on the ideas that can see the city grow. He is involved in the push to bring a world-class aquarium to the city, is completing an MBA, and – together with his wife – homeschools his two children. The parallels between entrepreneurialism and homeschooling have been many, and he sees an overarching lesson in both: you have to create the world you wish to see.
Mason Darabi is a National Leader, Agriculture Data at MNP and a Chartered Professional Accounting (CPA) candidate with an educational background in Engineering and Management. He is a blockchain enthusiast, an entrepreneurship fanatic seasoned with over 10 years of experience in Information Technology and Business Development in both Information Technology and Agriculture industries.
Mason's unique work-experience and skill set have enabled him to bridge the gap between the technical and business/financial matters which are both key pillars of success in any venture. He has tremendous passion in supporting the technology ecosystem and collaborating as a team player at Alberta Blockchain Consortium (ABC) as well as the Tech Niche at MNP towards building a strong and vibrant blockchain community in Alberta as an enabler of the prosperity and diversity of the province's economy.
Angelo Talamayan is leading the tech initiative in MNP's Edmonton office, and he brings a varied perspective and enriches the conversation with his wealth of knowledge across many disciplines. He was a master-mind behind PwC's involvement with Startup Edmonton, and he is also a big supporter of the Rainforest Alberta, having helped sign MNP's sponsorship with the organization in Edmonton.
A driven and client-focused Business Development professional with over ten years of business development, Angelo has both accounting and entrepreneurship/small business experience. He is a natural leader who excels in building strong relationships through an engaging and motivational approach, and he is focused on continually building and evolving the business development function to best support the organization's continued growth & success. A sizzling 20 under 30 in Edmonton (2014), Angelo has been involved in numerous community organizations and causes.
Please be sure to share this episode with everyone you know. If you are interested in being either a host, a guest, or a sponsor of the show, please reach out.  We are published in Google Podcasts and the iTunes store for Apple Podcasts.  We would be grateful if you could give us a rating as it helps spread the word about the show.
Show Summary:
Aim high, seek advice from your mentors, explore the "corporate startup" opportunities within the walls of your company, take advantage of the #scaling power of the corporate world and marry it with the #nimbleness and #agility of a startup to be at the forefront of disruption in your industry. The final word: "have more conversations"
We discussed a great deal about the importance of taking calculated risks – of finding ways to push the boundaries of a larger corporate structure to allow for innovation to occur within the organization (in order to gain access to the resources the company has, and to de-risk the startup model somewhat). While the historical startup model has glorified the risk-takers, and those who take that giant leap of faith by jumping out of the corporate world – parachute or not – Mason and Angelo contend there is also a place for those who want to push the boundaries of their companies as well, and who can find ways to support the startup ecosystem in the ways they approach innovation. Along that vein: can new business models be developed where big corporations are in partnership with local startups in the communities they inhabit? As Mason said: Have more conversations to find the answers to these, and as yet unasked, questions.
Show Quote:
"" 
Credits...
This Episode Sponsored By: Capturing Legacies Inc.
Episode Audio Editing: Kate Day - KD Sound Design
Graphic Design: Mackenzie Bedford
Episode Music: Tony Del Degan
Creator & Producer: Al Del Degan