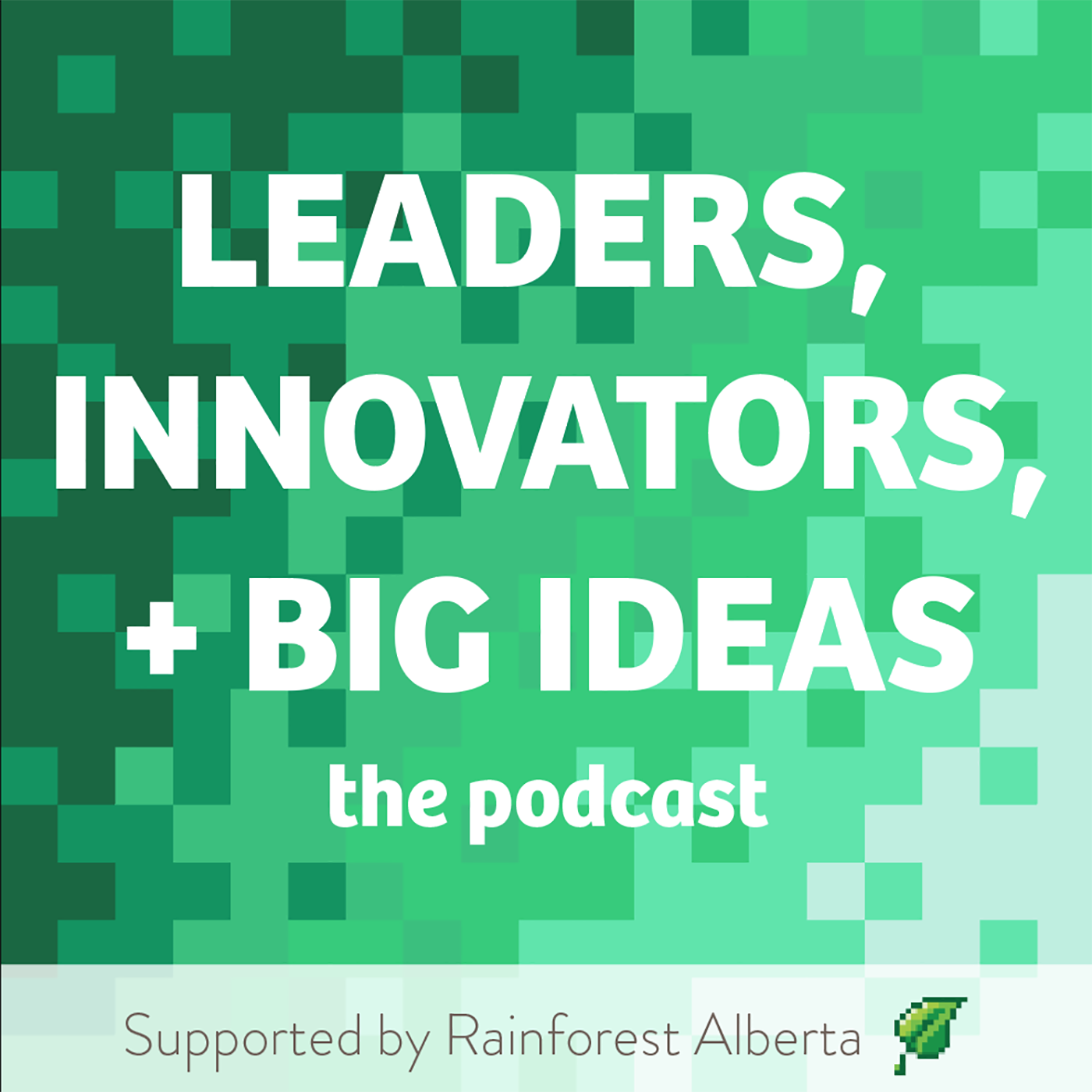 Thank you for listening to the Leaders, Innovators and Big Ideas podcast, supported by Rainforest Alberta.  The podcast that highlights those people who are contributing to and/or supporting the innovation ecosystem in Alberta.
Another episode from Edmonton hosted by Christopher Drobot.  Christopher Drobot is a passionate cheerleader for the potential of the Edmonton region. Although not directly an entrepreneur himself, his extensive experience in business operations and now mortgage lending help focus his excitement on the ideas that can see the city grow. He is involved in the push to bring a world-class aquarium to the city, is completing an MBA, and – together with his wife – homeschools his two children. The parallels between entrepreneurialism and homeschooling have been many, and he sees an overarching lesson in both: you have to create the world you wish to see.
Sahr Saffa is a creative problem solver, and one of the problems he's most proud of solving can be summed up in the work he does with the C-Tribe Festival, a community-driven by diversity, and helping innovative and creative people achieve their dreams. Inspired by his experiences in larger US centers of inter-industry collaboration and collisions, he decided to bring that type of experience back to our city - back to his own hometown. In just two years, the festival has grown to four days of collisions between people from all walks of life, programming to expose people to new ideas, 50 speakers, and over 1000 attendees from several different countries. He also works as the VP of Operations for a San Francisco-area machine learning firm AutonomIQ (pronounced auto-nah-mik), and in the spring of 2020 he will be pursuing a Master's in Artificial Intelligence research.
Please be sure to share this episode with everyone you know. If you are interested in being either a host, a guest, or a sponsor of the show, please reach out.  We are published in Google Podcasts and the iTunes store for Apple Podcasts.  We would be grateful if you could give us a rating as it helps spread the word about the show.
Show Summary: 
Sahr recounts his journey through high-level sports, his initial working career, his experiences in one of the biggest cities in the world, and ultimately his path to where he is today after having started something so audacious as an international festival. 
Here's someone who, upon experiencing how unlikely collisions and un-siloed thinking can contribute to massive innovations, decided to bring the concept back to our city. He had choices. He could have simply left elsewhere. But he poured his energy into making the things he wanted to see come to life, here in his hometown. Sahr's energy, and the energy of those inspired to act by hearing his story and others like his, is what will continue to move the needle. 
Remember: take action; go do things; make things happen.
Show Quote:
"We're trying to build our own version of SXSW (South by Southwest festival in Austin, Texas)...like the same as the Superbowl, but it's bringing together hundreds of thousands of people for two-and-a-half weeks in technology and culture and comedy, and we looked at that model and we thought it was phenomenal" 
Credits...
This Episode Sponsored By: Capturing Legacies Inc.
Episode Audio Editing: Kate Day - KD Sound Design
Graphic Design: Mackenzie Bedford
Episode Music: Tony Del Degan
Creator & Producer: Al Del Degan