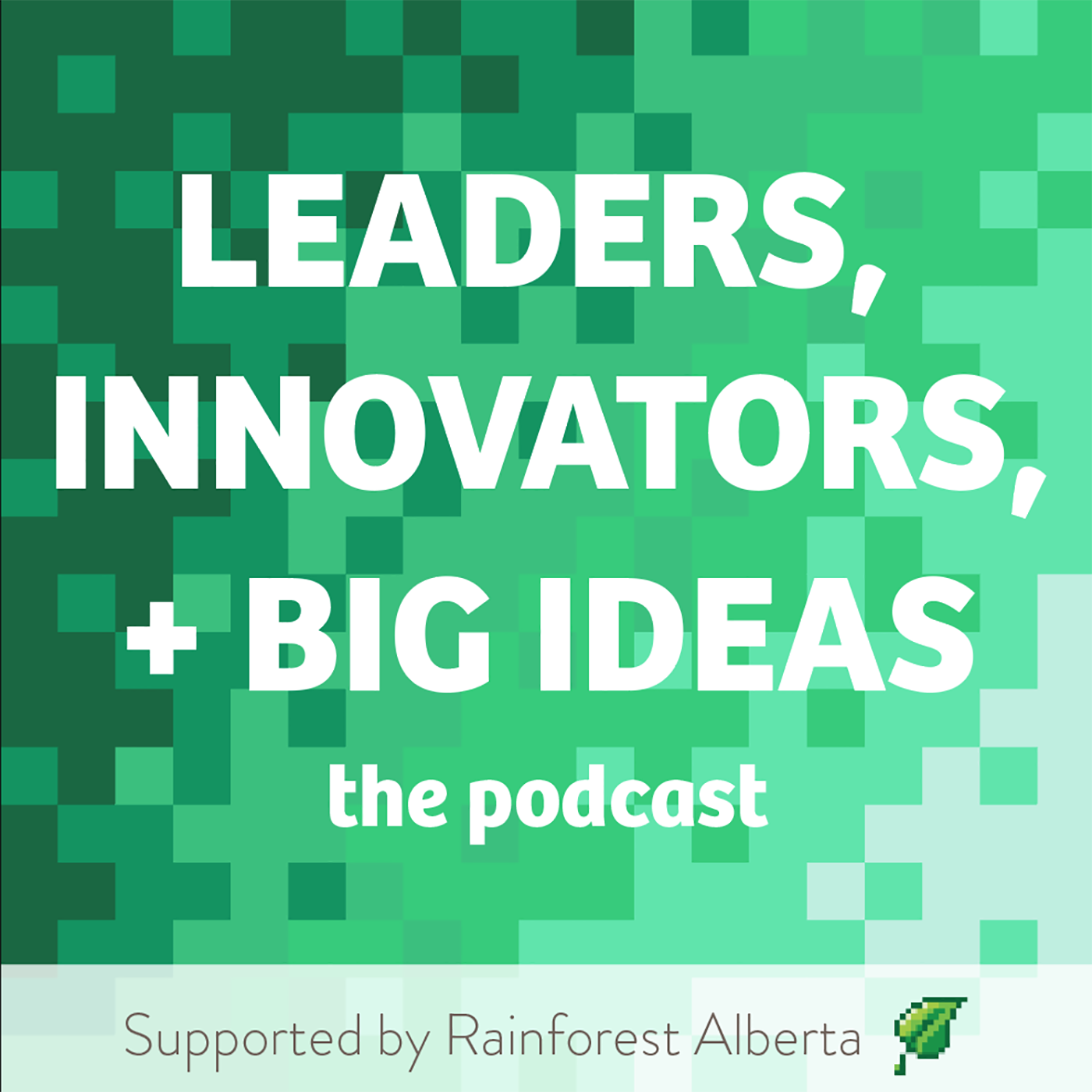 Thank you for listening to the Leaders, Innovators and Big Ideas podcast, supported by Rainforest Alberta.  The podcast that highlights those people who are contributing to and/or supporting the innovation ecosystem in Alberta.
This episode is hosted by April DeJong.  April is a serial entrepreneur, a trait she received from her parents who owned a furniture store in Edmonton that she worked at growing up.  That experience set the tone for her business life - do it all, do it well.
After working in international trade and economic development, April left that career to start a family and work alongside her husband in their award-winning residential design firm, DeJong Design Associates.  Over the past year, April started a real estate team with another Realtor who comes from a design background as well. For most people that would be enough, but April also owns and operates a vintage clothing pop-up shop with two of her friends, and she has a boutique graphic design studio. April is now helping her kids launch their own businesses.
Rick Weissenborn founded Tools4Boards in 1990 to develop the Pro 500 Ski Vise, a product designed to hold new ski constructions better than existing conventional ski vises. The commercial success of this invention, first sold in Japan through Hong Kong based trading house Jardine Matheson and then globally through Norwegian ski wax producer Swix Sport AS, inspired Rick to invent and manufacture several more products sold for 17 years through Swix Sport and Burton Snowboards. As a former ski racer Rick has always been passionate about skiing and even more passionate about inventing. 28 patents later Rick's inventions are now the intellectual property behind a comprehensive suite of innovative, award winning ski and snowboard tools, vises and stands sold exclusively under the Tools4Boards brand to a global market through select retailers including Amazon.com, Mountain Equipment Co-op and direct to consumers through the tools4boards website. Awards won in 2018 include the German ISPO Award recognizing only the most exceptional sporting goods for outstanding innovation and Red Dot, the world's most prestigious design competition dating back to 1955 and one of the top design awards in the world.
April has an interesting conversation with Rick about invention v.s. innovation and industrial design, patents and collaboration.
Please be sure to share this episode with everyone you know. If you are interested in being either a host, a guest, or a sponsor of the show, please reach out.  We are published in Google Podcasts and the iTunes store for Apple Podcasts.  We would be grateful if you could give us a rating as it helps spread the word about the show.
Credits...
This Episode Sponsored By: Zinc Ventures
Graphic Design: Mackenzie Bedford
Episode Music: Tony Del Degan
Creator & Producer: Al Del Degan