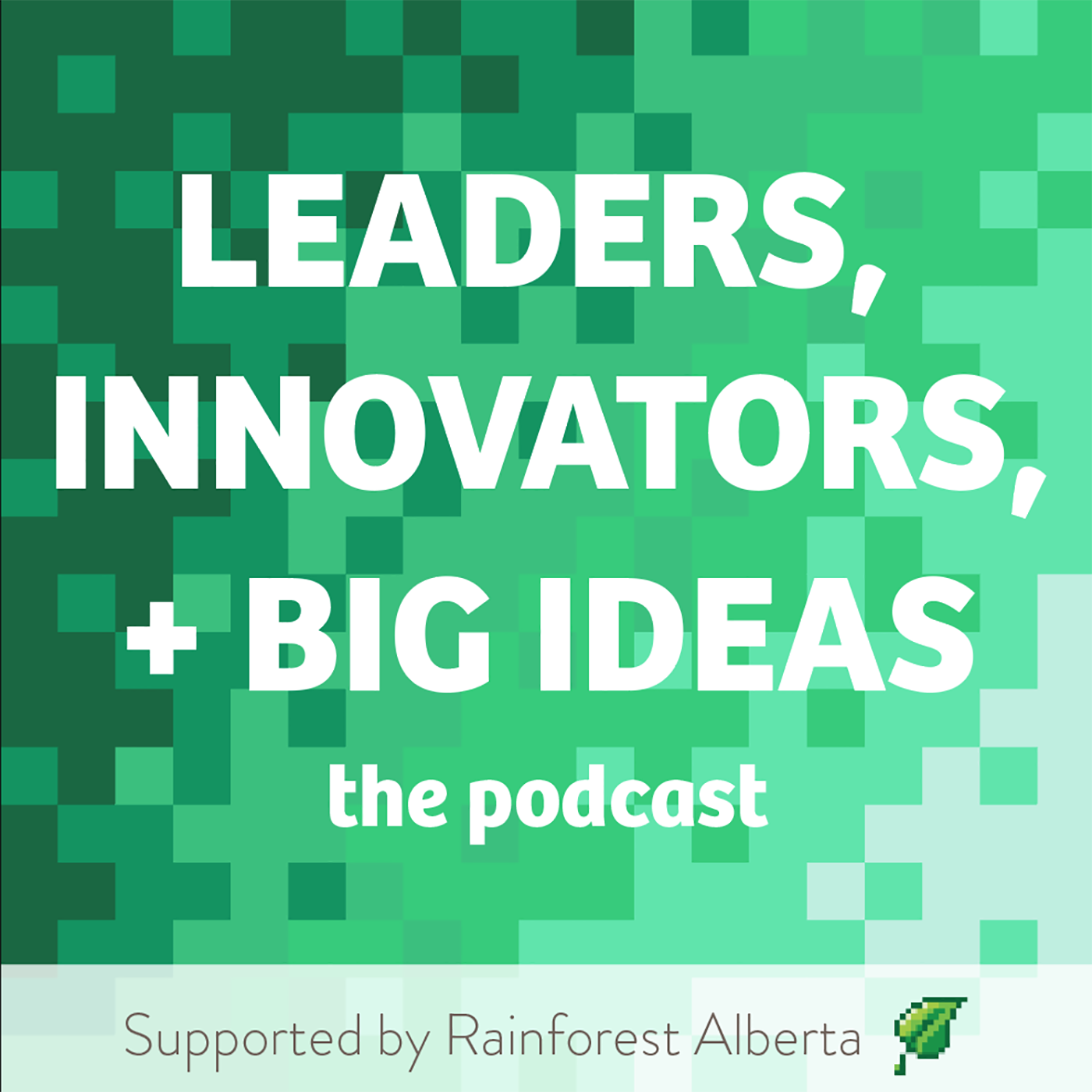 Thank you for listening to the Leaders, Innovators and Big Ideas podcast, supported by Rainforest Alberta.  The podcast that highlights those people who are contributing to and/or supporting the innovation ecosystem in Alberta.
This episode is hosted by Lori Farley.  Lori's business and voluntary commitments curate and facilitate: connections, relationships, and opportunities for social change through entrepreneurship, partnerships, and alliances between various sectors around the globe including Community development, Arts, Disability, Education, and Technology. Lori is involved in numerous ventures related to social innovation and socio-economic development including Intonovus Canada and Impact Calgary.
Lori is involved in supporting cross-sector social and economic development with a mission of sharing and mobilizing time, money, resources, energy, talents, and best practices that align to the Sustainable Development Goals (SDGs), B Corp standards (B Corp) and IRIS metrics (IRIS), all designed to measure the social, environmental and financial performance of companies and investments.
INTONOVUS Canada is a not for profit designed to partner with those advancing social impact, social enterprise, and impact investing:
IMPACT CALGARY is a social business venture launching coworking, 'impact first' business development, and access to funding for social entrepreneurs and benefit businesses. These ventures include foci on social impact technologies (such as Virtual & Augmented Reality (VR/AR), Blockchain, and Artificial Intelligence (AI)), parentpreneurship (child and family-friendly professional work spaces), and crowdfunding.
As part of her passion for rural-urban economic corridor development, she is working to replicate economic diversity in Alberta through rural tech hubs.
She is also a partner in business that supports producers, processors, and manufacturers of Alberta agri-food s to access markets in China and Southeast Asia.
Dustin Poole has a passion for going beyond sustainability. With a background in Aeronautical Engineering Technology, he began following his entrepreneurial ability at an early age. He has over 15 years of business experience in the area of solar and sustainable technologies, permaculture techniques, creative thinking, art, and design. In 2014, he co-founded Eclipse Sustainability Projects and opened The Solar Store. The first of its kind in Canada, it provides the solar industry with a wide range of products and services for commercial, residential, and industrial clients available through a retail showroom and training centre.
Dustin has acted as VP of Business Development for Green Metrics since June 2018, and President of The Meta Space, launched in June 2019. Green Metrics is dedicated to catalyzing an energy efficiency market in Alberta through the delivery of a digital platform that supports and enables building data analytics and decision making about building retrofits. The Meta Space is a disruptive technology collaborative environment in downtown Calgary that was formed by a group of companies wanting to work together on large projects, facilitate rapid innovation, and provide business mentorship to support new local talent and integrate them into future projects.
Dustin is a founding board member of Passive House Alberta and the GO Technology Foundation. Passive House Alberta is part of a global network dedicated to promoting a rigorous, voluntary standard for energy efficiency in buildings. The Generating Opportunities (GO) Technology Foundation is a non-profit social enterprise anticipating and integrating disruptive technologies. Dustin also acts as Co-Lead of EMCO Energy, a local energy company created by GO that reinvests the profits from retailing electricity and gas to Albertans for supporting local tech development and community projects.
Please be sure to share this episode with everyone you know. If you are interested in being either a host, a guest, or a sponsor of the show, please reach out.  We are published in Google Podcasts and the iTunes store for Apple Podcasts.  We would be grateful if you could give us a rating as it helps spread the word about the show.
Credits...
This Episode Sponsored By: Capturing Legacies Inc.
Graphic Design: Mackenzie Bedford
Episode Music: Tony Del Degan
Creator & Producer: Al Del Degan