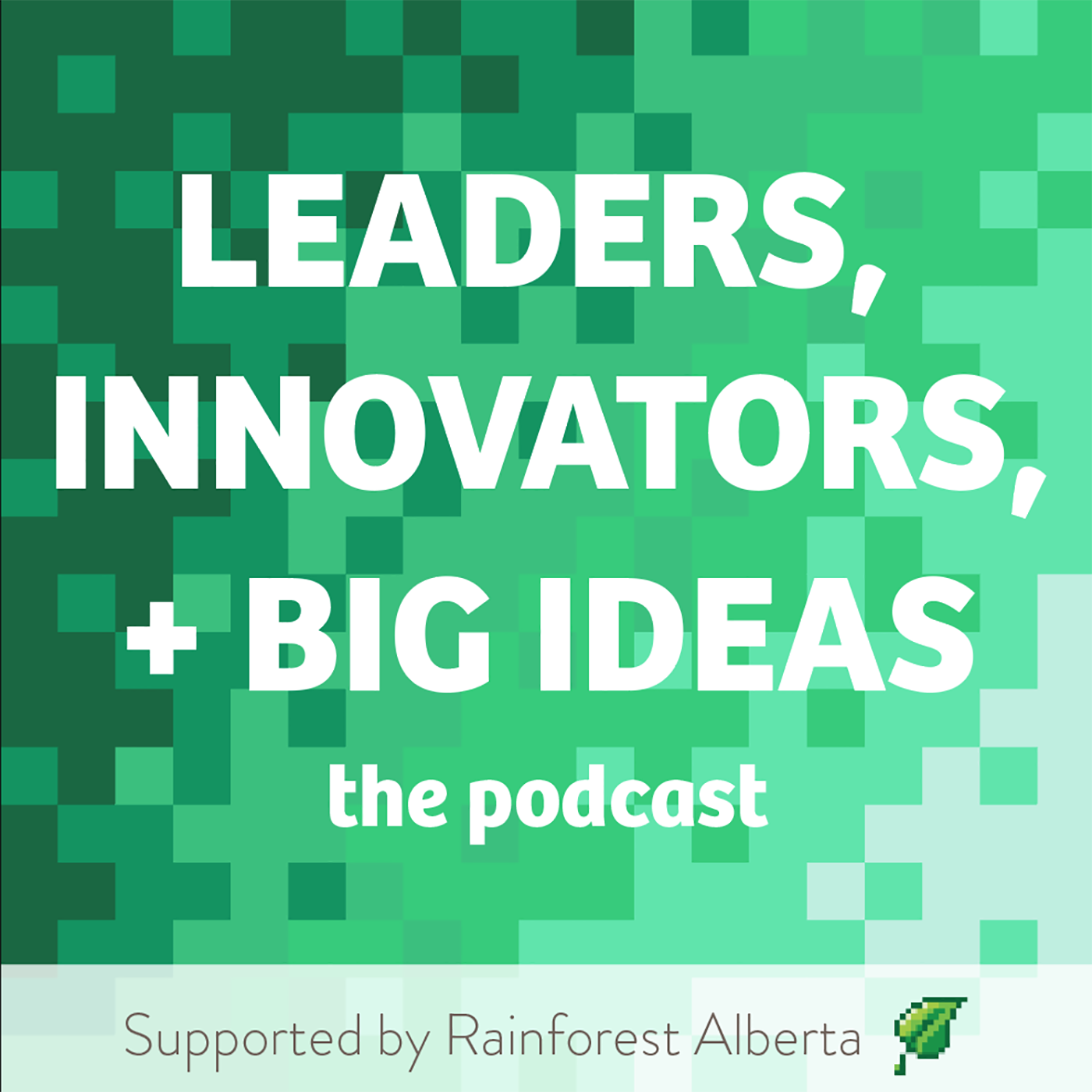 Thank you for listening to the Leaders, Innovators and Big Ideas podcast, supported by Rainforest Alberta.  The podcast that highlights those people who are contributing to and/or supporting the innovation ecosystem in Alberta.
This episode is hosted by Lori Farley.  Lori's business and voluntary commitments curate and facilitate: connections, relationships, and opportunities for social change through entrepreneurship, partnerships, and alliances between various sectors around the globe including Community development, Arts, Disability, Education, and Technology. Lori is involved in numerous ventures related to social innovation and socio-economic development including Intonovus Canada and Impact Calgary.
Lori is involved in supporting cross-sector social and economic development with a mission of sharing and mobilizing time, money, resources, energy, talents, and best practices that align to the Sustainable Development Goals (SDGs), B Corp standards (B Corp) and IRIS metrics (IRIS), all designed to measure the social, environmental and financial performance of companies and investments.
INTONOVUS Canada is a not for profit designed to partner with those advancing social impact, social enterprise, and impact investing:
IMPACT CALGARY is a social business venture launching coworking, 'impact first' business development, and access to funding for social entrepreneurs and benefit businesses. These ventures include foci on social impact technologies (such as Virtual & Augmented Reality (VR/AR), Blockchain, and Artificial Intelligence (AI)), parentpreneurship (child and family-friendly professional work spaces), and crowdfunding.
As part of her passion for rural-urban economic corridor development, she is working to replicate economic diversity in Alberta through rural tech hubs.
She is also a partner in business that supports producers, processors, and manufacturers of Alberta agri-food s to access markets in China and Southeast Asia.
Carol Sun epitomizes integrity, energy, hard work and creative service in every detail in the networking and communication realm. As a graduate in communication from Royal Roads University, Carol finds her self tapping into her skills in helping businesses in the Calgary area grow and become success stories within their industries. As a connector, an executor, and a communication specialist, she is responsible for implementing and streamlining business marketing, funding and operations strategies.  She also helps clients increase brand awareness, generate leads, and acquire new customers. When Carol isn't working, she takes her passion even further by working with new entrepreneurs to develop their business ideas, organize their operations, connecting them with a solid foundational network and mentoring them to be successful! She provides sweat equity to small tech start-ups, which speaks loudly to her love for her community. Carol is most known for her great motivational and inspirational support.
*Assets – Business Development, Strategic Management, Operation Management, Human Resources, Project Management, Marketing and Design and a passion for entrepreneurs.
Please be sure to share this episode with everyone you know. If you are interested in being either a host, a guest, or a sponsor of the show, please reach out.  We are published in Google Podcasts and the iTunes store for Apple Podcasts.  We would be grateful if you could give us a rating as it helps spread the word about the show.
Credits...
This Episode Sponsored By: Capturing Legacies Inc.
Graphic Design: Mackenzie Bedford
Episode Music: Tony Del Degan
Creator & Producer: Al Del Degan