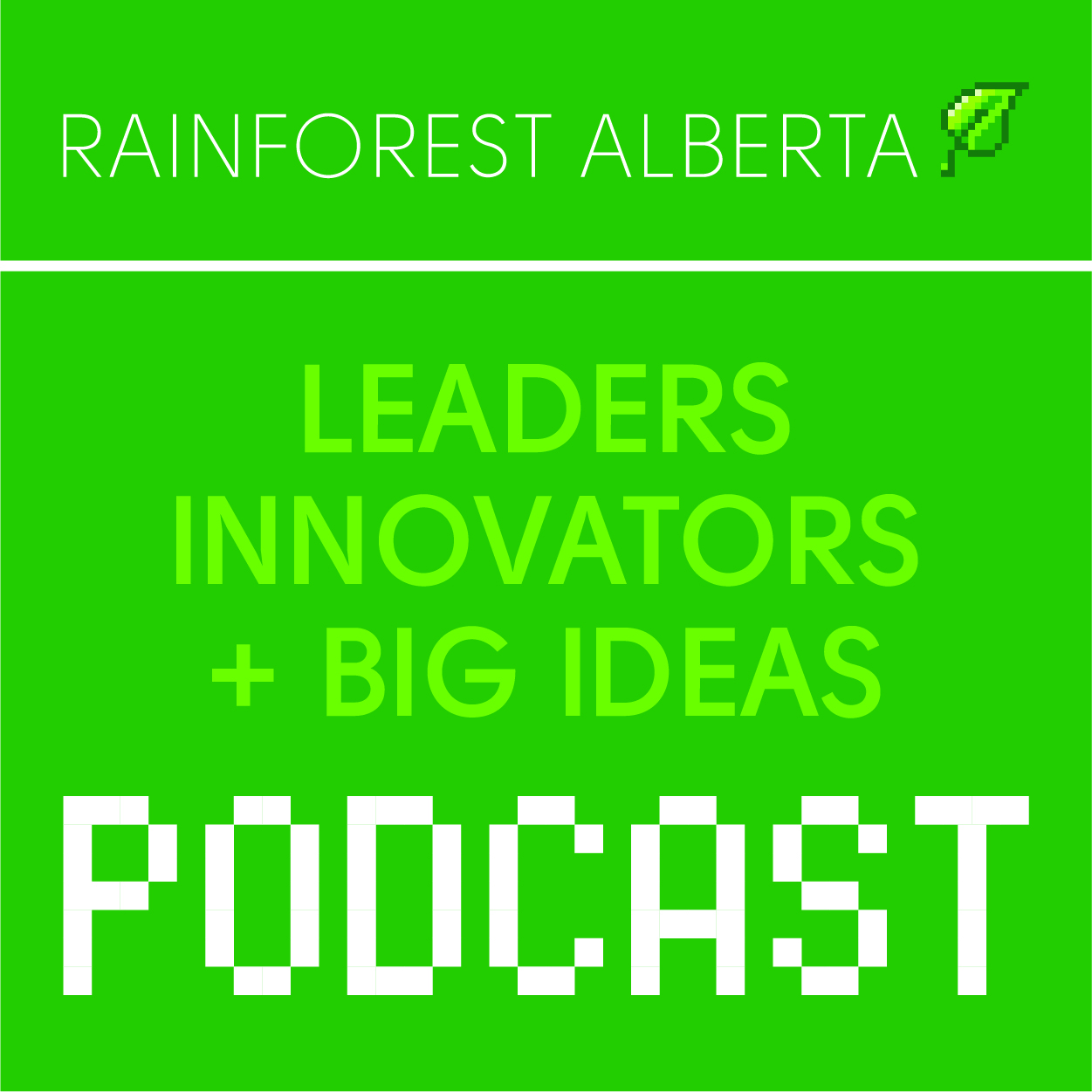 Thank you for listening to the Leaders, Innovators and Big Ideas podcast, supported by Rainforest Alberta.  The podcast that highlights those people who are contributing to and/or supporting the innovation ecosystem in Alberta.
Another episode from Edmonton hosted by Christopher Drobot.  Christopher Drobot is a passionate cheerleader for the potential of the Edmonton region. Although not directly an entrepreneur himself, his extensive experience in business operations and now mortgage lending help focus his excitement on the ideas that can see the city grow. He is involved in the push to bring a world-class aquarium to the city, is completing an MBA, and – together with his wife – homeschools his two children. The parallels between entrepreneurialism and homeschooling have been many, and he sees an overarching lesson in both: you have to create the world you wish to see.
Mack Male is a dedicated community-builder who has given back through thousands of hours of board, committee, and volunteer work for more than a dozen different organizations. Along his own journey in the technology space, he was involved early in the pre-DotCom boom, and has continued to grow and evolve along the way. Today, he is co-founder of Taproot Media, and has received numerous distinctions over the years such as Top 40 under 40 from Avenue Magazine, and one of Alberta's Next 10 Most Influential People by Alberta Venture Magazine. He is also deeply involved in the tech community in Edmonton, and shares an interest in municipal politics – a subject on which he co-hosts his own podcast, Speaking Municipally.
Please be sure to share this episode with everyone you know. If you are interested in being either a host, a guest, or a sponsor of the show, please reach out.  We are published in Google Podcasts and the iTunes store for Apple Podcasts.  We would be grateful if you could give us a rating as it helps spread the word about the show.
Show Summary: 
Mack shares with us his story within the Edmonton tech community – from early days in the pre-DotCom area, through to now. Along the way, he shares some great words of wisdom regarding how to make your venture "stick", while also advising people to recognize when the time is right to move on. As a co-founder of Taproot Media, he has seen the value of going "all-in" on a project, and the results that can come through focused efforts. Mack's journey is one of questions, and of an appreciation for good journalism – of truly getting to the bottom of things. Thankfully for us, there's always another question to ask, and Mack and Taproot Media are there to find the answers.
Show Quote:
"Cadence and frequency are really important, it builds habit and expectation from your audience – if you show up and continue to work at it, it's bound to pay off." 
"First and foremost we wanted to build a really successful business. We figured if we could make something work here, then we could have an impact on media and journalism worldwide."
"The decentralized network of people within the community is far more successful than having one wayfinder. You need to try things, talk to new people, and be open to making new connections – that's how the most successful people stay open to opportunity."
"You don't need to be a 22-yr-old white man living on ramen to build a company. That's the person we see in pop culture, but that's not consistent with who is actually able to do something. You just have to go out and start something. That's it."
Credits...
This Episode Sponsored By: Community Now! Magazine
Episode Music: Tony Del Degan
Creator & Producer: Al Del Degan