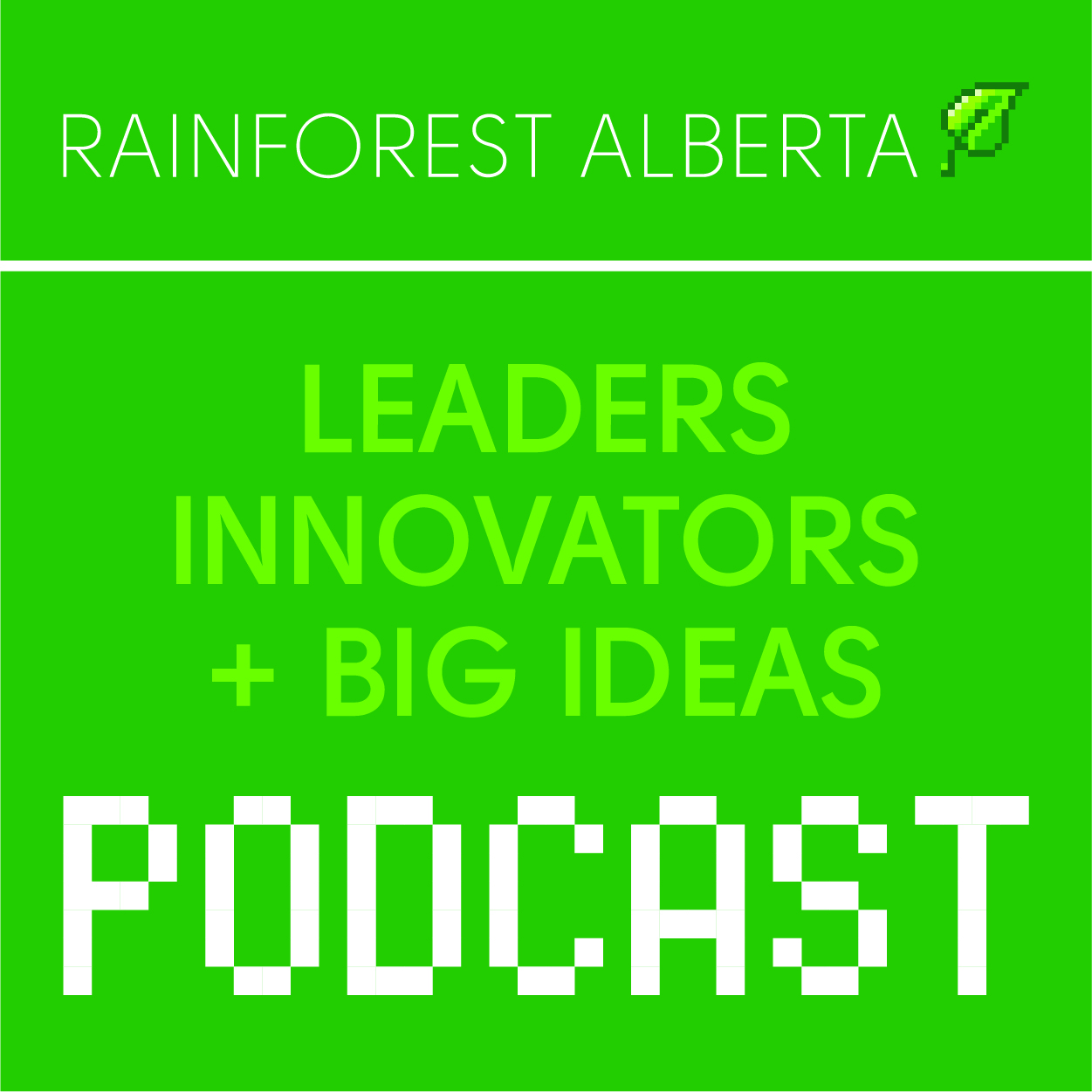 Thank you for listening to the Leaders, Innovators and Big Ideas podcast, supported by Rainforest Alberta.  The podcast that highlights those people who are contributing to and/or supporting the innovation ecosystem in Alberta.
Another episode from Edmonton hosted by Christopher Drobot.  Christopher Drobot is a passionate cheerleader for the potential of the Edmonton region. Although not directly an entrepreneur himself, his extensive experience in business operations and now mortgage lending help focus his excitement on the ideas that can see the city grow. He is involved in the push to bring a world-class aquarium to the city, is completing an MBA, and – together with his wife – homeschools his two children. The parallels between entrepreneurialism and homeschooling have been many, and he sees an overarching lesson in both: you have to create the world you wish to see.
Shelvie Fernan moved to Edmonton when she was 20 years old fresh from the Philippines. She was finishing her degree in Bachelors Of Science in Electronics and Communications Engineering when her entire family decided to move to Canada.  She worked as a manager of a clothing retail store for a year then she decided to pursue her degree in Business Administration Major in Entrepreneurship and Innovation. Throughout post-secondary, Shelvie was a student leader serving as a club executive for the Filipino Students Association. She also competed in various case competitions representing NAIT. Prior to graduation, Shelvie got a job offer by Manpower Alberta as the Job Placement Consultant of TECHCareers. This experience exposed her to the local tech ecosystem and introduced her to Rainforest. A few months into the job, Shelvie decided to pursue her entrepreneurial dream by starting Fly and Fetch. She is currently the CEO of this early stage start-up leading her team and tasked with business development, sales, and operations.
Victoria Celi was born and raised in Ecuador, where she worked for the Government  in topics related with eradication of poverty and redistribution of wealth. She founded a company whose mission was to promote ventures and facilitate their access to the national market. This experience helped her to discover her passion for entrepreneurship, so she decided to move to Canada to improve her knowledge and skills in this field. Currently, she is studying a BBA in Entrepreneurship and Innovation at NAIT, and is the co-founder of Fly and Fetch, an online Peer-to-Peer Shipping Marketplace that connects travelers, with extra luggage space, and shippers who need to send a package abroad.
Please be sure to share this episode with everyone you know. If you are interested in being either a host, a guest, or a sponsor of the show, please reach out.  We are published in Google Podcasts and the iTunes store for Apple Podcasts.  We would be grateful if you could give us a rating as it helps spread the word about the show.
Show Summary: 
This is the story of how one idea will often lead you to another – or how you need to recognize when opportunity is actually knocking on your door. Shelvie and Victoria were both talking about a different business that Shelvie had started up, and upon encountering a problem in that business that would be easily solved through paying a friend who was travelling...a business was born! Hear the story of idea to product – and the backgrounds of the two entrepreneurs themselves – for an "obvious" idea (that no one is doing!) that these two energetic entrepreneurs decided to bring to life in a formalized way.
Show Quote:
"Rainforest was one of the first places where I really felt comfortable to speak up and share my ideas" 
"Our travellers are going to be really attached to their community – because there will be that sense of trust"
"Because a lot of the travellers are going to be from the same backgrounds, it's more than just about the products that are being shipped – it's like we speak the same language, being able to reminisce about "home", wherever they are trying ship."
"Before, when I had started a company in my home country, it was me and my co-founder, and we didn't have any insight from outside. Here in Edmonton we feel so much more supported by the community as a whole."
"Be open to change: you need to be versatile, you need to be agile. Things will happen that you don't expect, but don't give up"
Credits...
This Episode Sponsored By: Community Now! Magazine
Episode Music: Tony Del Degan
Creator & Producer: Al Del Degan