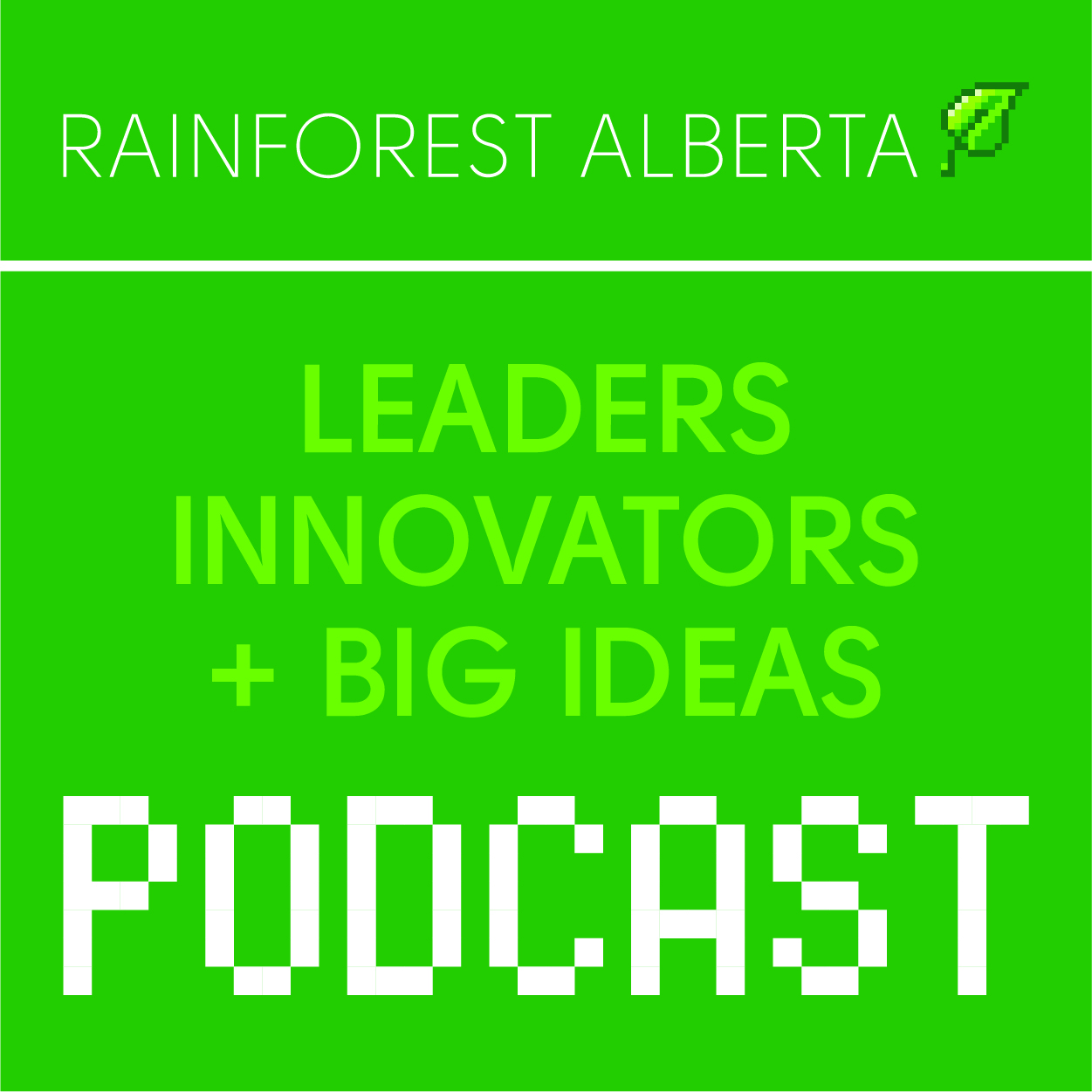 Thank you for listening to the Leaders, Innovators and Big Ideas podcast, supported by Rainforest Alberta.  The podcast that highlights those people who are contributing to and/or supporting the innovation ecosystem in Alberta.
Another episode from Edmonton hosted by Christopher Drobot.  Christopher Drobot is a passionate cheerleader for the potential of the Edmonton region. Although not directly an entrepreneur himself, his extensive experience in business operations and now mortgage lending help focus his excitement on the ideas that can see the city grow. He is involved in the push to bring a world-class aquarium to the city, is completing an MBA, and – together with his wife – homeschools his two children. The parallels between entrepreneurialism and homeschooling have been many, and he sees an overarching lesson in both: you have to create the world you wish to see.
Ruthann Weeks is the founder of Harmony In The Workplace Ltd. She is a tireless forward thinking crusader whose efforts have helped to bring the importance of an abuse-free work environment to the forefront of public awareness. She is also a gifted corporate keynote speaker who delivers a powerful message about today's workplace challenges to senior executives and decision makers. Starting off as a Certified Information and Referral Specialist in the human service sector, Ruthann went on to graduate as a Human Resource Manager. She also obtained her CMHA certification as a Psychological Health and Safety Advisor. Along the way, Ruthann discovered that the more she learned about workplace bullying, sexual harassment, and psychological safety, the more she wanted to improve the workplace environment for everyone. That's when she first established her social enterprise to foster safety in the workplace by addressing violence and harassment through practical education and risk mitigating strategies. In keeping with her desire to build corporate social responsibility into her business model and in furtherance of her grand vision to help create safe spaces for those fleeing abuse, Ruthann donates a portion of all revenues to domestic violence prevention initiatives.
Please be sure to share this episode with everyone you know. If you are interested in being either a host, a guest, or a sponsor of the show, please reach out.  We are published in Google Podcasts and the iTunes store for Apple Podcasts.  We would be grateful if you could give us a rating as it helps spread the word about the show.
Show Summary: 
Ruthann shares how she took disappointment and one negative experience at a previous employer and turned it into fuel to start out in another direction entirely – finding ways to help others prevent some of the same experiences she encountered. Not only did she spend time building up her business over the past four years, but has found ways to pivot as COVID began, developing coursework and seminars that continued to move her business forward digitally. Her optimistic approach, and positive mindset enable her to help businesses thrive.
Show Quote:
"Make an appointment with your disappointment – schedule it, put it in your calendar [...] and then get refocused." 
"When someone's in the right position for them, they feel it in their core. If you feel energized by your work, you're on the right path"
"We're all in the same storm, but not in the same boat [...] now more than ever is the time to be gracious towards others."
"You must invest in yourself, you have to. Rather than a scarcity mindset, to be an entrepreneur you have to have an abundance mindset."
Credits...
This Episode Sponsored By: Community Now! Magazine
Episode Audio Editing: Kate Day - KD Sound Design
Episode Music: Tony Del Degan
Creator & Producer: Al Del Degan