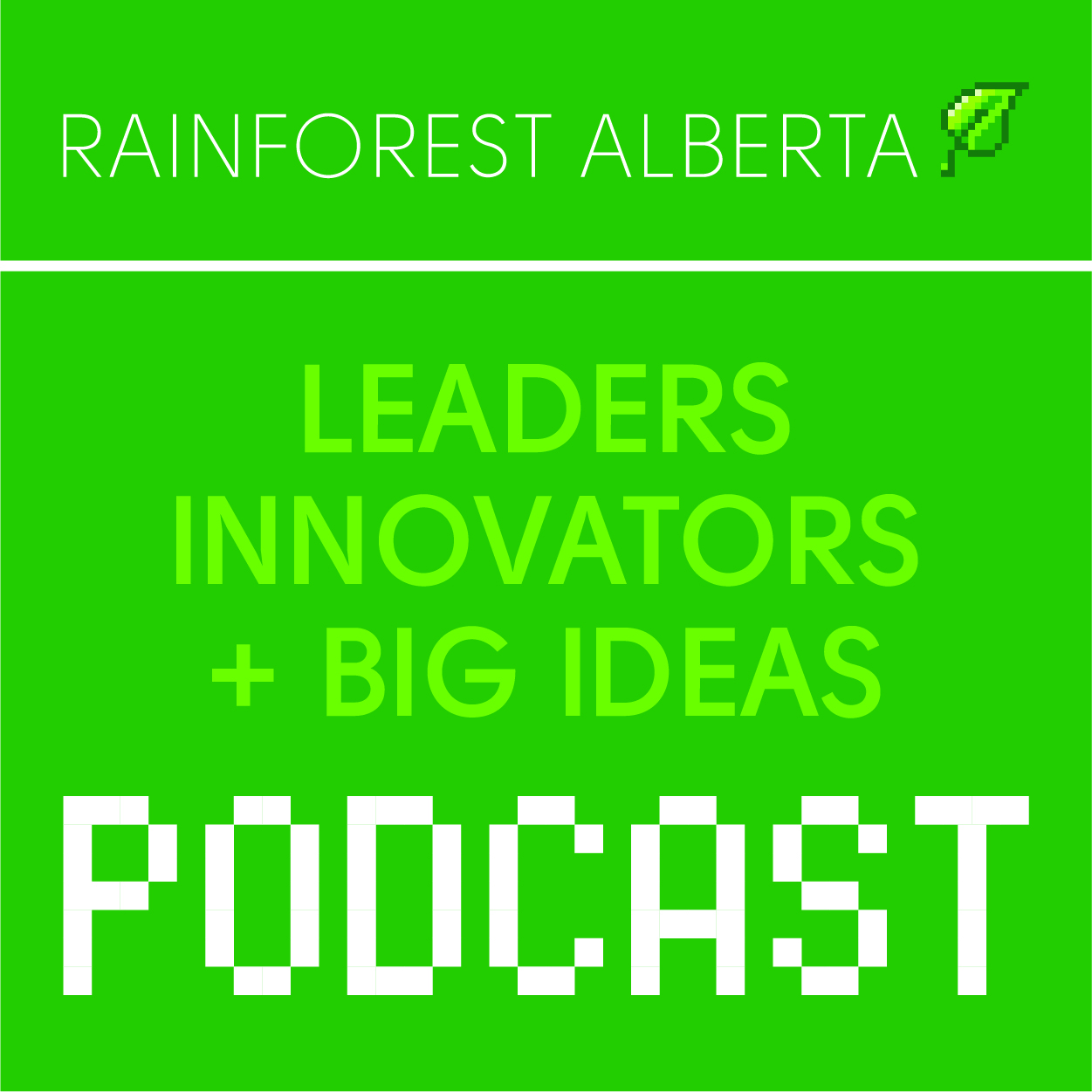 Thank you for listening to the Leaders, Innovators and Big Ideas podcast, supported by Rainforest Alberta.  The podcast that highlights those people who are contributing to and/or supporting the innovation ecosystem in Alberta.
This episode is hosted by Michael Chui.  Michael learning about different perspectives and challenging assumptions through questions. He has had a diverse career in finance and operations, software and technology, and regulatory economics - including time training as a locomotive engineer and a product owner.  
His diverse experience allows him to look at complex ideas through multiple lenses and pinpoint the simplest core values. He is currently unlearning & re-learning how to build intuitive web applications and effective architecture solutions as a full stack developer. Michael is also volunteering with Chartered Professional Accountants (CPA) Alberta to help accountants better adapt to the latest in software and technology.
Paige Lennox is serving as a Registered Nurse for 25 years and working with patients and families in Acute Critical Care, Addictions and End-of-Life Care. She witnessed many heartbreaking stories:
- Loved ones who don't know where to turn to get their dying parent the dignity they deserve.
- Critically ill individuals who can't get an appointment with a doctor.
- Patients sent home too soon when they're not strong enough and have no one to care for them.
She also experienced a personal healthcare challenge when supporting her mother through a two-year struggle with terminal cancer. This reminded her over and over again of just how overwhelming health issues can be.
These experiences developed her passion for helping patients and their families navigate the medical system. Paige created Canadian Health Advocates Inc. (CHAI) as a way to assist patients, loved ones and ageing adults during a health crisis, on both an emotional and practical level.  
Her professional and personal experience enabled her to bridge the gap between the medical community and the patient. Because she knows the system from both the patient perspective and from the healthcare practitioner's, she is able to use that knowledge to empower others.
When she is not working, you will find her playing the banjo and climbing mountains (but not at the same time).
Article mentioned:
Telehealth's future is bright. Here's what it'll look like in 2025
Please be sure to share this episode with everyone you know. If you are interested in being either a host, a guest, or a sponsor of the show, please reach out.  We are published in Google Podcasts and the iTunes store for Apple Podcasts.  We would be grateful if you could give us a rating as it helps spread the word about the show.
Show Summary: 
Health advocacy is a niche idea in Canada despite its popularity in the U.S. healthcare system. Paige explains what is health advocacy and how her team helps Canadian better navigate our health care system through health advocacy and telehealth. Hear Paige shares her journey from a registered nurse to the founder of Canadian Health Advocates and what she learned from an accelerator program in B.C.
Show Quote:
"We follow up on referrals and tests that have been done. We don't give hands-on care. We act as consultants to help people navigate the healthcare system." 
"Know your limits. Know what you know and know what you don't know. Be brave enough to ask a lot of questions."
"More people we let know about (health advocacy) and more people can get access to help."
Credits...
This Episode Sponsored By: Community Now! Magazine
Episode Audio Editing: Kate Day - KD Sound Design
Episode Music: Tony Del Degan
Creator & Producer: Al Del Degan