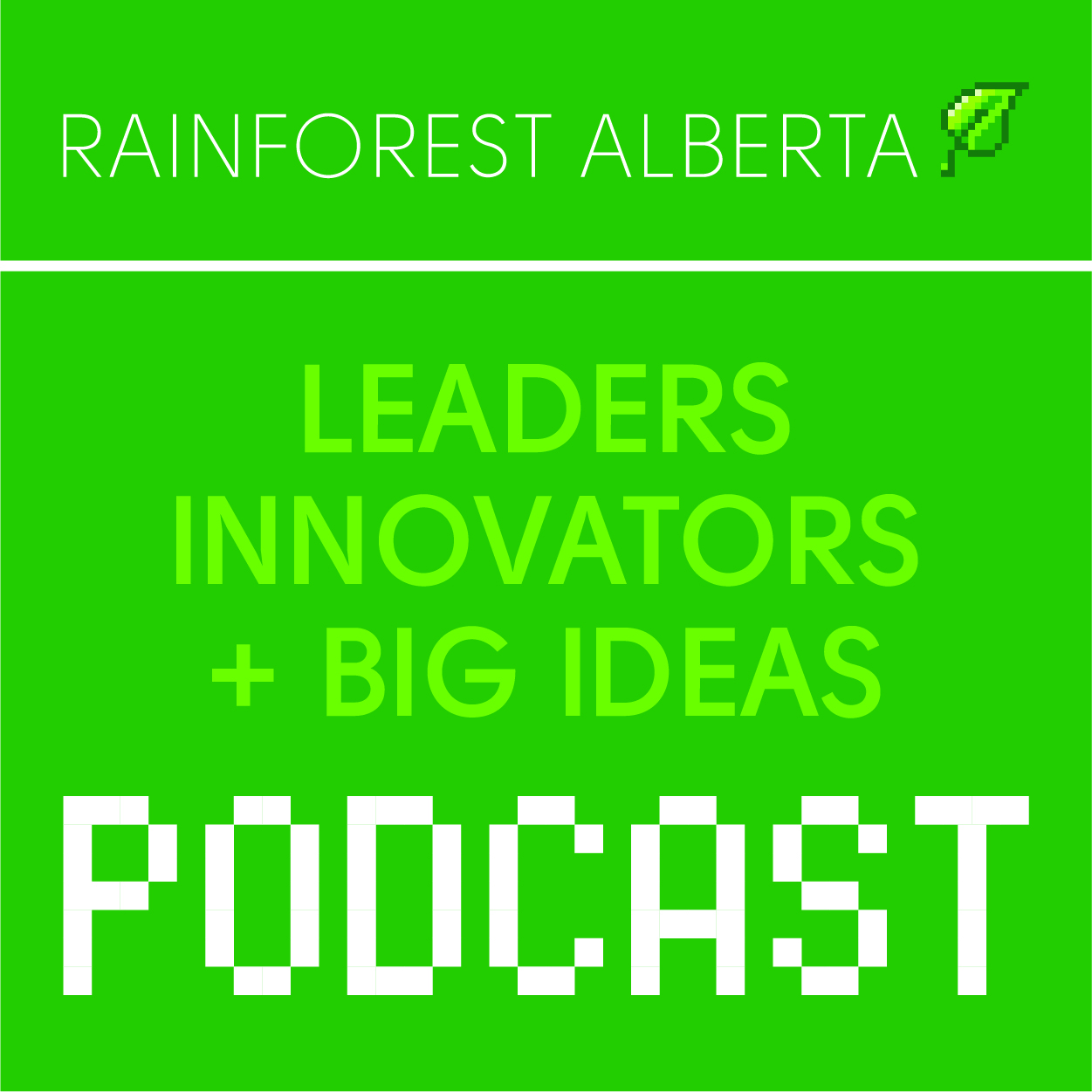 Thank you for listening to the Leaders, Innovators and Big Ideas podcast, supported by Rainforest Alberta.The podcast that highlights those people who are contributing to and/or supporting the innovation ecosystem in Alberta.
Lori Farley Lori Farley Lori's business and voluntary commitments curate and facilitate: connections, relationships, and opportunities for social change through entrepreneurship, partnerships, and alliances between various sectors around the globe including Community development, Arts, Disability, Education, and Technology. Lori is involved in numerous ventures related to social innovation and socio-economic development including Intonovus Canada and Impact Calgary. Lori is involved in supporting cross-sector social and economic development with a mission of sharing and mobilizing time, money, resources, energy, talents, and best practices that align to the Sustainable Development Goals (SDGs), B Corp standards (B Corp) and IRIS metrics (IRIS), all designed to measure the social, environmental and financial performance of companies and investments. INTONOVUS Canada is a not for profit designed to partner with those advancing social impact, social enterprise, and impact investing: IMPACT CALGARY is a social business venture launching coworking, 'impact first' business development, and access to funding for social entrepreneurs and benefit businesses. These ventures include foci on social impact technologies (such as Virtual & Augmented Reality (VR/AR), Blockchain, and Artificial Intelligence (AI)), parentpreneurship (child and family-friendly professional work spaces), and crowdfunding. As part of her passion for rural-urban economic corridor development, she is working to replicate economic diversity in Alberta through rural tech hubs. She is also a partner in business that supports producers, processors, and manufacturers of Alberta agri-food s to access markets in China and Southeast Asia.
Toni Guffei After getting an Economics degree from the University of Alberta, Toni began her career in B.C. as a Statistical Analyst at Vancouver Airport where she tracked aircraft stats used to justify the need for a third runway. After the project was approved, she took on the role of managing the marketing for 13 airports within the province by promoting their leased and licensed air terminal space. After 8 years in the transportation industry, she went back to school at the University of Victoria where she completed a master's degree in business majoring in Marketing. She relocated to Calgary in 2002 and worked within the tech sector for several years while running own consulting practice: Ratio Marketing Inc. Her practice has successfully evolved its marketing research, strategy, and planning services for businesses in Canada and the U.S., and has expanded from the technology sector, into construction, education, hospitality and B2B industries. In 2013 she launched Ratio Reports - a Do It Yourself Strategic Marketing program for small businesses who want to learn how to build their own measurable, marketing plan of action. She hosts training workshops on a range of marketing topics from How to Get Customer Feedback to Digital Marketing Advertising – always with a focus on strategic methods. Working with young entrepreneurs is one of her passions. Toni is a Professor at Mount Royal University and teaches Digital Marketing online for the University of Calgary.
Please be sure to share this episode with everyone you know. If you are interested in being either a host, a guest, or a sponsor of the show, please reach out.We are published in Google Podcasts and the iTunes store for Apple Podcasts We would be grateful if you could give us a rating as it helps spread the word about the show.
Show Summary
Toni Guffei sees a pattern of three things going on with entrepreneurs, business owners, and decision makers related to marketing: Protecting: businesses are pulling back on spending, shutting down, and retreating. Need:Some marketing, to have a presence, otherwise there may be a perception that they are going under. Promoting: businesses increasing promotion because there is a necessary need for what they have to offer e.g. health and wellness. Need: Promotion of what they're doing, or how they are adapting. Pivoting: businesses changing their product and their service offering completely; like the brewery that has pivoted into temporarily, of course, making hand sanitizers. Some are doing a hard pivot to totally different products and services. Need: Re-messaging for temporary pivots, and rebranding for new offerings. Resources: The E-Myth by Michael E. Gerber "I think it's a must read for entrepreneurs because he talks about the basics of what you need to know, and one of the concepts that he speaks of is, how every business owner should know about every aspect of their business. They should know about how to run the finances, they should know how to do the operations and the development of the products and services, they should know how to do their marketing."
Show Quote:
"As a professor I teach the foundations of marketing, and it's really about the target market. What is the market wants, and how do we tie in the product, price, place, and promotion aspect of marketing into the business goals."
"Marketing, in many cases, you know, is half science, half art, part psychology, that's my made up Yogi Berra, quote :)"
"I think was 84% of respondents said that if [a brand] came across as trying to salvage something, and not being community oriented, that [respondents] would not use that brand, again, forever" [what you do during this time is going to have a long term enduring impact on your brand]"
Credits...
This Episode Sponsored By: Community Now! Magazine
Episode Audio Editing: Kate Day - KD Sound Design
Episode Music: Tony Del Degan
Creator & Producer: Al Del Degan
System Engineering Sponsor: Kris Chase - PODMaster 2020